There are so many national parks to visit when you're travelling America, if that's your kind of thing. We've rounded up 3 of the most amazing parks in the US, and you're bound to add at least one to your list of destinations to visit.  Our friends from Brisbane, Australia to check it out.
Acadia, Maine
The most amazing part of this almost 50,000-acre park is viewing the sun rise on Cadillac Mountain. When you join the audience waiting before dawn, you're part of the lucky group of people who see the sun's rays first in the whole country!
There's fantastic views for those who like to hike or bike, or those who would rather go by sea can jump aboard a boat cruise or even rent a kayak and see the wonders of this park.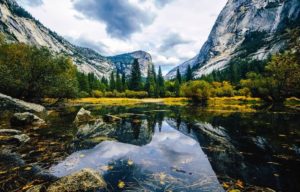 Yosemite, California
There's incredible mountains here, that some people say are unrivalled by anything others on Earth. The landscape was carved by glaciers, which are stunning to see in person.
You can't miss Yosemite Falls, North America's highest waterfall; or El Capitan, the tallest granite monolith in the world.
Plenty of great hiking trails lead you through the park, and you can't miss travelling Glacier Point Road which provides an awe-inspiring view of the Yosemite Valley below.
This is a favourite of our good friend Roslyn!
Arches, Utah
You've probably seen Utah's Arches in films, including many of John Wayne's movies and Thelma & Louise. With over 2,000 sandstone arches, you'll never find another place like this in the world. These arches were whittled away over many years by wind and water, and the Delicate Arch is incredible to see at sunset.
You can walk long or short trails, and even rock climb in this national park that's been referred to as 'a stone fantasyland'.
These are our picks for 3 of the national parks in the US that you simply cannot miss, but there are so many more for you to explore! Have fun reading and researching about parks for you to hike, bike, or climb your way through, while admiring the beauty of nature.