If you are planning to travel to Indonesia, visit the Bali Province. Here are some of the top attractions to visit Bali:
Ubud Monkey Forest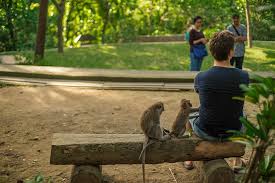 Also named Sacred Monkey Forest Sanctuary is in the town of Ubud. The name is derived from the Balinese word "Ubad" which means medicine. This sanctuary is home to a couple long-tailed macaques which tourists can encounter in the morning as they are attracted to tourists having breakfast near the hotel.
A day spent in Ubud Monkey Forest is one of the best things you can do in Bali. Why not feed them with bananas, which you can buy at the sanctuary? Monkeys are drawn to food and if you want a close encounter with them to take selfies, then feeding them bananas is a good way to go. Make sure though to keep your valuables such as sunglasses, camera lens cap, bag, and so on are out of the monkeys reach. Do not fight with them if they already have them since they can become aggressive.
Shop while in Kuta
Check out Mercure Kuta Bali as the mall offers top-of-the-line imported brands. A walk in Kuta will allow you to find a good selection of shirts, slippers, gadgets, and the common things you find inside malls. There you will also find a vending machine with Havaianas slippers inside. You will also find cafes, bars, coffee shops and of course restaurants lined in the place.
If you are looking for good bargains, go outside the mall area where you will find bargain items. Haggling is common and you can mostly get half the price at most. Also, explore the surfers' paradise at Kuta beach and find a lot of surf shops in the area.